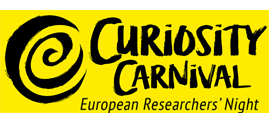 The Curiosity Zone of I'm a Researcher connects secondary school students in Oxfordshire with a range of researchers from the University of Oxford and Oxford Brookes University.
There's an archaeologist looking at the DNA in chicken bones to see how ancient people traveled, a sociologist interviewing families about moving to huge cities in China, a psychologist figuring out why people love to take part in rituals, an engineer working out how to stop jet engines melting, a medical ethics researcher asking whether you own your own body… and loads more! See all 22 researchers here
Students get to challenge the researchers over fast-paced online text-based live CHATs. They ASK them anything they want, and VOTE for their favourite. The I'm a Researcher event widens engagement with the Curiosity Carnival taking place for European Researchers Night on the 29th of September. Students have the chance to attend the Curiosity Carnival at the University of Oxford and meet the researchers in person.