Profile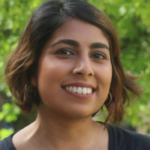 Priyanka Dhopade
The Historian
Education:

I grew up in Canada where I went to high school and did a 4-year university undergraduate degree. I then went abroad to Australia to do postgraduate studies in the same subject before moving to Oxford to start my career in engineering research.

Qualifications:

Bachelors in Aerospace Engineering, Masters in Aerospace Engineering, PhD in Aerospace Engineering

Work History:

I did internships at aerospace companies back in Canada, where I worked on jet engines and landing gears for aeroplanes. It was pretty fun but I wanted to travel more and also learn more about aerospace engineering in other countries. So I decided to move to Australia to do postgraduate degrees.

Current Job:

I've been working at Oxford University as a researcher in engineering for the last 2.5 years right after finishing my PhD in Australia.

Employer:

University of Oxford (Osney Thermo-fluids laboratory)
About Me

Hello, my name is Priyanka and I'm 30 years old. I was born in India and since then I've lived and worked all over the world, including Saudi Arabia, Canada, Australia and now the UK.

Read more

I live with my partner in Oxford. We are both aerospace engineers and would love to go to space someday. We can't seem to keep a plant alive for longer than a week (something about watering them often?)

My work

Jet engines get hot; the bits inside can break or melt; I make sure they don't.

Read more

I work at the Osney thermo-fluids lab at Oxford University, where we research aerodynamics and heat transfer, mainly for jet engines. It's a cool lab with a couple of really big test facilities that are designed to simulate real engine parts. This is what it looks like on the outside:

Jet engines are pretty awesome. They are designed to work at extremely high temperatures, pressures and accelerations, like the one showed here: the RB211 made by Rolls-Royce plc, which flies on quite a few of the Boeing aeroplanes!

For example, when an aeroplane is taking off:

– the pressure inside the engine can be as high as 700 psi (the equivalent of a horse standing on an area the size of your thumb)

– the temperatures can be as high as 2,127 degrees Celsius (in comparison, molten lava is actually cooler at around 1,727 degrees Celsius)

– the air flowing past the rotating blades can accelerate as high as 50,000 times faster than the gravitational acceleration on Earth (in comparison, high-performance cars only accelerate at 2-5 times the gravitational acceleration on Earth)

At some points in the engine, the temperature of the air can be greater than the melting point of some of the parts inside. So how does the inside of a jet engine not melt?

Using engineering, of course!

The front of the engine sucks in a large amount of cold air from outside. That air is then compressed using complicated sets of rotating and stationary blades before entering the combustor.

But before it does that, some (very little) of the air is directed away through an intricate set of ducts that lead to the hot parts in the turbine section (the red area in the picture above) that need cooling. Individual turbine blades often have a network of cooling holes inside them, to stop them from melting. This is a simplified version of what the inside of a turbine blade looks like, where the dotted line shows the flow of cooler air that's used to keep the blade from melting:

(Image Source: Oxford Sparks)

The more efficient the cooling methods are, the less cold air we need to use. And the less cold air we need to use from the front of the engine, the more of it can be used to generate thrust. That makes an engine more efficient, so that it uses less fuel and emits fewer harmful gases (known as emissions) and is better for the environment!

If you want to know more, watch this cool video about what happens at our research lab at Oxford: http://www.oxfordsparks.ox.ac.uk/content/jet-plight-0

When I was a little girl, I always liked watching aeroplanes in the sky during the day and watching the stars at night. Growing up, I really enjoyed Maths and Science subjects at school because they taught me more about how the world around me worked, including the aeroplanes and stars I so admired!

My parents really encouraged me to pursue my interests and my teachers at school also suggested I do something science-related. So when it came time to choose a subject at university, I thought, why not choose something that combined my interest in aeroplanes and maths/science? So I chose to study aerospace engineering, and it's been a blast!

I've learned so much and met so many interesting people. I also love flying on aeroplanes (which can get quite expensive) so instead, I've tried skydiving, parasailing, paragliding and bungee jumping!

My Typical Day

My typical day consists of making computer models of the hot flows inside a jet engine and analysing the heat transfer to the metal parts.

Read more

Since my research is funded by Rolls-Royce who make aircraft engines, they're pretty interested in what I come up with. So during a typical day, I also talk to engineers from Rolls-Royce who can use my computer models to improve their engine cooling systems (either over the phone or they come visit from Derby).

I usually work on 3-4 projects that are related to different parts of the engine, for example, the compressor, the combustor, or the turbine (all of which need different amounts of cooling) so there's never a dull day! I also get to work with lots of different people who are experts in some very specific things.

I also get to travel a lot and present my work at international conferences (where engineers from all over the world come to share their knowledge and research on new, exciting stuff). I've been to conferences in New Zealand, Sweden, Denmark, Germany and Canada. This year, I'm going to Seoul, South Korea.

This is a photo of me with my colleagues from the Osney lab at a conference in Montreal, Canada last year. We're a pretty fun bunch!

The reason I work at the Osney lab and not Rolls-Royce directly is so that I can also learn a bit more about the fundamental flow physics that makes jet engines work. This is an important part of doing research in engineering. I have more freedom to come up with creative solutions to difficult problems that could arise in modern engines or propulsion in general.

But at the same time, I can also see the direct application of my research when it gets used on the next big engine that will be flying in a couple of years!
My Interview

How would you describe yourself in 3 words?

Smart, easy-going, determined

What's the best thing you've done as a researcher?

I helped design an improvement to the cooling flow of an engine turbine stage that is now going to be part of Rolls-Royce's newer engine models to make them safer and more efficient! How cool is that?!

What did you want to be after you left school?

An astronaut

If you weren't a researcher, what would you be?

An astronaut, or an artist.

What is the most fun thing you've done?

When I applied to be an astronaut with the Canadian Space Agency (and made it as far as the top 2% of all applicants!)

Tell us a joke.

Who was the first electricity detective? Sherlock Ohms
---
---
---