Profile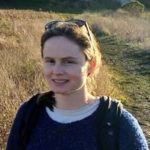 Mary-Kay Thompson
The Historian
Education:

High school (secondary school): American School of the Hague 2000-2004, University: Rice University 2004-2008, Graduate school: Massachusetts Institute of Technology 2008-2015

Qualifications:

BS in biochemistry, PhD in biology

Work History:

Undergraduate researcher at Rice University 2006-2008, PhD researcher at MIT 2008-2015, postdoctoral researcher at University of Oxford 2015-present

Current Job:

I'm a postdoctoral researcher at the University of Oxford in the Department of Biochemistry.

Employer:

I work in the lab group of Ilan Davis.
About Me

I'm a molecular biologist studying how genes are turned off and on while the brain develops.

Read more

I moved to the UK from the US almost two years ago after finishing my PhD. I'm a postdoc in a group in the Department of Biochemistry at Oxford. A postdoc (short for postdoctoral researcher) is a researcher who has finished their PhD, but has moved to a new lab to acquire additional training. After a postdoc, the researcher might start their own lab or go on to another science-related career.

I live with my boyfriend in Oxford in a very small but cute apartment above a fancy French restaurant. We moved here together from Boston where we met when we were both doing our PhD's. Outside the lab I enjoy rock climbing, running, drinking hoppy beer, and watching just a little too much Netflix.

Previous to living in Oxford, I have lived in Houston (US), Abu Dhabi (UAE), New Orleans (US), The Hague (Netherlands), and Boston (US). Travelling and moving to new places has always been part of my life and I still love it. One of the great things about being a scientist is that the community is so international. You can travel the world going to conferences or you can even join a lab in a new country to experience a new place and culture.

My work

I'm studying how young fruit fly brains grow into adult brains and how they know when to stop growing.

Read more

Your brain produces most of your neurons before you are born. A small family of cells known as stem cells creates neurons over a short period of time. How do the stem cells make the right number of neurons so that the brain becomes the correct size? I want to know which genes are involved in these decisions and how they are turned on and off at the right time. I use fruit flies for these studies because they have simpler brains than humans and are easy to work with in the lab.

In order to study the brains, I dissect them out of tiny fly larvae and grow them in small tubes. The brains can survive this way for a long time—up to 24 hours! I purify biological macromolecules from the brains (usually RNA, which is similar to DNA, but represents the 'active' form of the gene). I measure the levels of RNA for each gene in the brain to see which RNAs are being produced and in which types of brain cells.

I can test theories about brain development by creating flies with mutations in specific genes and then looking at what happens to the brain in flies with the altered version of the gene. I use a high-powered microscope to watch the brains grow and divide.

My Typical Day

Planning experiments at my computer and pipetting (i.e. just moving tiny volumes of liquid around, but it's more exciting than it sounds!), often whilst joking around with my labmates.

Read more

I roll in to lab around 10 am (I'm an anti-morning person), make myself a cup of coffee, check my email, and look at my lab notebook to review the experiments I have planned for the day. Depending on the day, I may be in the lab at my bench the whole time, busy processing samples, or I may be at my computer, thinking and scribbling out notes. That's the cycle– plan experiments, do experiments, analyze data, discuss with others, repeat… I usually leave lab around 7 pm, and then I'll make dinner with my boyfriend and maybe go for some exercise.
My Interview

How would you describe yourself in 3 words?

Adventurous, persistent, detail-oriented

What's the best thing you've done as a researcher?

Finished my PhD! Getting a PhD in the US can take forever (mine was seven years, around the national average) and at times you feel like it is never going to be over. I often felt that I just didn't have what it took to finish it and that maybe I should drop out and do something else. Now that it's done, I have an incredible sense of pride about it and better understanding of the deep inner resolve I now know I have.

What did you want to be after you left school?

I didn't know. When I started university I wanted to take every course; it all sounded interesting to me! At American universities, you don't have to decide right away. I thought that I should become some kind of engineer because that's what my parents wanted. In the end I became biologist, so they didn't quite get what they wanted.

If you weren't a researcher, what would you be?

I really love TV and writing. I think it would be really fun to try my hand at scriptwriting, though I don't know if I'd be any good at it! More realistically, I'd probably want to train as some type of engineer or data analyst, because I enjoy practical problem solving.

What is the most fun thing you've done?

After a scientific conference in Japan, my labmate and I went on a trip to Thailand. One day we got on a dive boat that took us a long way off the coast and we got in the water to go snorkeling. We were looking at the fish for about 20 minutes before we looked up and saw the boat we came on was nowhere in sight. I had to grab my labmate to keep him from drowning out of panic, he was so afraid of the (potential) sharks. The boat came back about half an hour later. It turns out they were just dropping some people off somewhere else but had forgotten to tell us. It was very funny in retrospect.

Tell us a joke.

I am addicted to stealing kitchen utensils. I am afraid of getting caught, but that's a whisk I'm willing to take….
---
---
---