Profile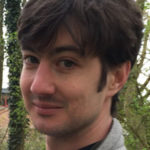 Martin Pickup
The Historian
Education:

I was at King's College, Wimbledon until 2002, then did an undergraduate degree in Philosophy and Theology at Worcester College, Oxford from 2002-2005, a masters degree at KCL in London from 2005-2006, and another(!) masters and a doctorate back in Oxford from 2007-2012

Qualifications:

MA (Oxon), MA, BPhil, DPhil

Work History:

Junior research fellow at New College, Oxford and a postdoctoral fellow on the Metaphysics of Entanglement project, Philosophy Faculty, Oxford

Current Job:

Lecturer at Magdalen College, Oxford

Employer:
About Me

I'm a husband and a dad, and can be found playing sport (hockey and tennis) or in the pub when I get the chance

Read more

I grew up in London and have been in Oxford, apart from a couple of years, since leaving home for university. I am married with a young family, which keeps me happy and tired!

I spend much of my free time catching up with friends and family (I've been to more than 50 pubs within the Oxford ring road). I play sport when I can, and the older I get the better I was. There's lots of things I like to do but never get round to, like: watching films and plays, reading novels and learning to cook interesting food.

My work

I teach and research in philosophy, looking at questions about the fundamental nature of things

Read more

Philosophy asks questions about a lot of different things. The parts of philosophy that I work in mean thinking about stuff like time, ordinary objects and God.

Here's one question: what's the difference between the past, present and the future? It seems like there's a big difference: I can only do stuff in the present, I can make a difference to the future and I can't do anything about the past. But how does this work? One issue is that physics seems to tell us all parts of time are the same sort of thing. So how come they seem so different to us?

Thinking about these kinds of question is what metaphysics does. It isn't easy, and it can be hard for some people to see the point in it (though I think there is a point!). But for other people these deep questions are the most interesting ones there are.

My Typical Day

No day is the same, but lots of them involve trying to work out how to think about some philosophy questions by reading and listening to other people, talking with them, and by trying out some of my own ideas

Read more

My days and weeks vary quite a lot. But there are some things that I do quite a lot. Teaching and admin take up some time (teaching is great! Admin less so…) but my research generally involves thinking about puzzles in metaphysics and trying to find new ways to solve them.

Something people often wonder about is how to do research in philosophy. Is it just sitting in a room thinking? The short answer is, not usually. Usually, I think about things by bouncing off what other philosophers are doing. So there's lots of reading and listening and talking with other researchers. But there's also time to sit down and try and work out my own thoughts, and that's where I'd go off to a library or office and write things on the computer. Lots of the writing process is revising and rewriting what I did the day before! I'm lucky to get to talk through my ideas with colleagues to help make them as best they can be.

I'm generally working from 9-5 or so, Monday-Thursday (I look after my son on Fridays), but this changes when I'm away at conferences or have big deadlines.
My Interview

How would you describe yourself in 3 words?

Concise

What's the best thing you've done as a researcher?

Having papers published is exciting and lets you send your ideas out into the world for other people to grab onto. Which is pretty cool, so probably that.

What did you want to be after you left school?

I had no idea!

If you weren't a researcher, what would you be?

The first Arsenal player to score a triple hat-trick on debut

What is the most fun thing you've done?

Seeing the gorillas in the wild on honeymoon was pretty great

Tell us a joke.

I bought my friend an elephant for her room. She said, "Thanks." I said, "Don't mention it."
---
---
---