Profile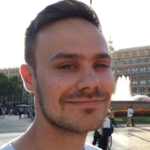 Sam Parsons
Thanks to all of the students for your questions! I'll write some longer answers, and maybe record a few podcasts, to answer the bigger questions in more detail. Keep an eye on https://samdparsons.blogspot.co.uk/
The Historian
Education:

St Birinus Secondary School, 2001-2006, Didcot Sixth Forms, 2006-2008; University of Stirling, 2008-2012; Oxford Brookes, 2013-2014; and University of Oxford 2014 to present.

Qualifications:

BSc in Psychology, MSc in Psychology, and I am currently a third year DPhil (PhD) student in Experimental Psychology.

Work History:

I've also worked for a few years during my Undergraduate and Masters' degrees as a Support Worker for people with learning disabilities.

Current Job:

I am DPhil (PhD) candidate.

Employer:
About Me

I am a current DPhil student pursuing a career in psychological research.

Read more

I live in Oxfordshire with my wife and our Cat, Beau ("Bo"). I'm a Type 1 Diabetic, which I try to manage as much as possible with a Primal/Paleo diet and a solid exercise regime. I used to watch too much South Park, but with Netflix this has been replaced by It's Always Sunny in Philadelphia which is the perfect anti-sitcom. I have a Yamaha XJ600, which isn't the fanciest of motorbikes, but I love it anyway.

My work

I am interested in the way we process emotional information, and how this relates to mental health

Read more

My work centres on investigating cognitive mechanisms that may be implicated in psychological resilience and wellbeing. Biases in the processing of emotional information in attention, interpretation, and memory (amongst others) has been found to associate with emotional disorders. It is the current goal of my research to investigate whether similar mechanisms are involved in positive mental health. For this, I use computerised cognitive tasks and a variety of experimental methodologies and analytic strategies. I also have a side project examining the reliability of the cognitive measures involved in the field of experimental psychopathology. This is an important issue that can render interpretations of our analyses inaccurate, yet has been under-investigated and reported.

I will be happy to talk about any of these areas of my work, and pretty much anything else as part of the "I'm a researcher" event.

My Typical Day

At the moment, writing my thesis :)

Read more

In a typical day for the next few months, I will spend most of the day writing. By writing I mean the combination of writing sections of a paper or thesis chapter from my jumbled notes, and revising sections that I had already written based on my own or supervisors' comments. I will typically also revisit some of the published literature to ensure that I have good support for the arguments I have made. I typically have a reasonable amount of email communications to keep on top of as well, including discussing issues and updates with my supervisors, talking with some of my collaborators and other researchers in my field. If I have time between my own writing, I will read research papers, blog posts about science and statistics. I also listen to podcasts like "Everything Hertz" and "the Black Goat" on the walk into and from the office.

So, my typical day is a real mixture of activities all geared towards learning more and writing about my own research.
My Interview

How would you describe yourself in 3 words?

Early Career Researcher.

What's the best thing you've done as a researcher?

I learned how to program. It's such a useful skill that is immensely transferable.

What did you want to be after you left school?

Originally, I wanted to be a Psychiatrist or Clinical Psychologist.

If you weren't a researcher, what would you be?

If I weren't a researcher, I think I'd like to be doing something with my hands. Maybe a bike mechanic, that would be interesting.

What is the most fun thing you've done?

Visiting Western Australia on a lab visit – mostly because it gave me and my wife (then fiancee) the best holiday we have ever had and it was such a beautiful place.

Tell us a joke.

Tuition fees. Or, rather, the thought that education is a personal and not societal investment.
---
---
---