Profile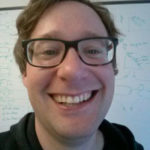 Andreas Zoettl
The Historian
Education:

2003-2009 TU Vienna, Diplom in Physics

Qualifications:

PhD in Physics (2014), TU Berlin

Work History:

2009-2015 TU Berlin; 2001 Forster metal factory; 2002 Mondi Business paper factory

Current Job:

Marie Curie Postdoctoral Fellow, Institute for Theoretical Physics, Oxford

Employer:
About Me

I am doing theoretical biophysics funded by the European Union

Read more

I live with my family in Oxford and enjoy exploring Oxford and Oxfordshire by bike and pushchair. I like all kinds of food except cucumber what I really dislike.

My work

I study how bacteria swim in biological fluids

Read more

With the help of computer simulations I try to understand how micro-organisms such as bacteria or sperm cells move in the human body. Many bacteria rotate helical appendages attached at the end of their body which help them to move forward. I am investigating how such bacteria move in human body fluids such as blood or mucus. Mucus, for example, covers the lungs and stomach and act as a shield against bacterial invasion. Sometimes, however, these harmful bacteria can swim through mucus and attack your body. Also bacteria have to follow the laws of physics! And I am finding out which forces may help them to swim through or stop them to move.

My Typical Day

Telling the computer to do calculations for me, and check if it isn't doing stupid things

Read more

In fact, there are not many typical days, most of them are very different from each other. Usually I work in my office in front of a computer, or doing calculations with pen and paper. There is a bunch of things I am doing at work, in a random order, but not every day the same things: Doing calculations with the computer and by hand, writing computer code, analysing the results from computer simulations, creating nice figures and movies from data, reading and answering E-mails, reading scientific papers, discussing with colleagues, skype calls with other scientists, writing scientific papers, and doing some administrative stuff (which is usually boring, in contrast to the other things).
My Interview

How would you describe yourself in 3 words?

An Austrian Physicist

What's the best thing you've done as a researcher?

Going to conferences in China and the US, and presented my work there

What did you want to be after you left school?

I had no idea

If you weren't a researcher, what would you be?

a programmer probably

What is the most fun thing you've done?

Going to Marocco by car

Tell us a joke.

I don't know any, although I really like good humor
---
---
---